Are you looking forward to get more traffic to your blog from Pinterest? Are you looking for new ways to make full use of your blog? Pinterest offers a strong way to help you grow your blog. You can also use Pinterest to find content for the blog, build your viewers, and boost website traffic. In this article, I'll give you easy approaches on how a blogger can grow on Pinterest.
How a blogger can grow on Pinterest?
Search for new content inspiration on Pinterest
There is no doubt in saying that a blogger struggle continuously to bring out fresh content. In such a situation, Pinterest is helpful. You can find a numerous number of content ideas on Pinterest. Go and find something that will interest your readers.
Review Your Keywords
Pinterest is keyword search–friendly, you can easily search for pins that are related to your keywords. Directly go to the search option at the left top of Pinterest and enter a related keyword to your blog.
Scroll the pins, analyze which topic has the most repin rates, likes, and have a huge number of comments. After analyzing add a similar topic to your content and create your own pins and post.
NOTE: Try to make your content more on point. It will increase the chances of your post shares and engagement.
Make interesting images
Either they are related to your topic or not, if you are sharing a pin on your Pinterest, always make sure it looks interesting, informative, and attractive. People always get attracted to what they see at first, the very first impression you make on your audience is not with your content but with your image. So, always try to make it look more interesting and attractive to increase the audience rate.
Write an article on Pinterest's popular categories
According to Tailwindapp.com. Here is the list of the 10 most popular categories on Pinterest.
Food and Drink
Home Decor
Travel
Health and Fitness
Women's Fashion
Hair and Beauty
DIY & Crafts
Entertainment
Weddings
Holidays & Events
If your content is on any of these mentioned topics and you pin a post to your board related to it, there is no doubt in saying that the chances of visitors on your board would increase instantly and it will also increase the click-through and read your blog.
Anyone would like to improve their paid and organic marketing on other social media, like Facebook, LinkedIn. There are many such courses and workshops available online that you can take and learn step-by-step marketing training to increase your social media.
Connect with other people with similar niche
You can make full use of Pinterest by making your relationship strong with other people who are interested in similar blogs.
Images on the website should be Pinterest-friendly
Feature an image of your every blog post and make it pinnable to one of your Pinterest boards and link it back to your blog website. It will not only build your link, it will also encourage your brand by supporting the categories and topics you write about. Make sure it is easy for other viewers to pin images from your posts.
Follow other people similar to your niche
Get some time in your day to repin and comment on another popular pin similar to your categories. If you do this, there are chances that they will do the same and it will increase the chances of getting a huge audience on your profile.
Do not FORGET to write a small description of your pins
When you pin images from your blogs on your Pinterest boards, Do Not Forget to add a small yet informative description of the blog post that is related to your pin on your board and always include a click on the image in the description that will redirect to the blog post on your website. It will make it easier for the people on Pinterest to find your blog website.
Create various boards
Never create a single board for different categories. It will affect the organic research of your pin. Instead, try to make your boards more relevant and specific. It will be helpful for you to attract more audience. For example, I post quotes on my Pinterest profile. I have categorized them, in
Motivational Quotes, Inspirational Quotes, Success Quotes, People Quotes, Time Quotes, and so on.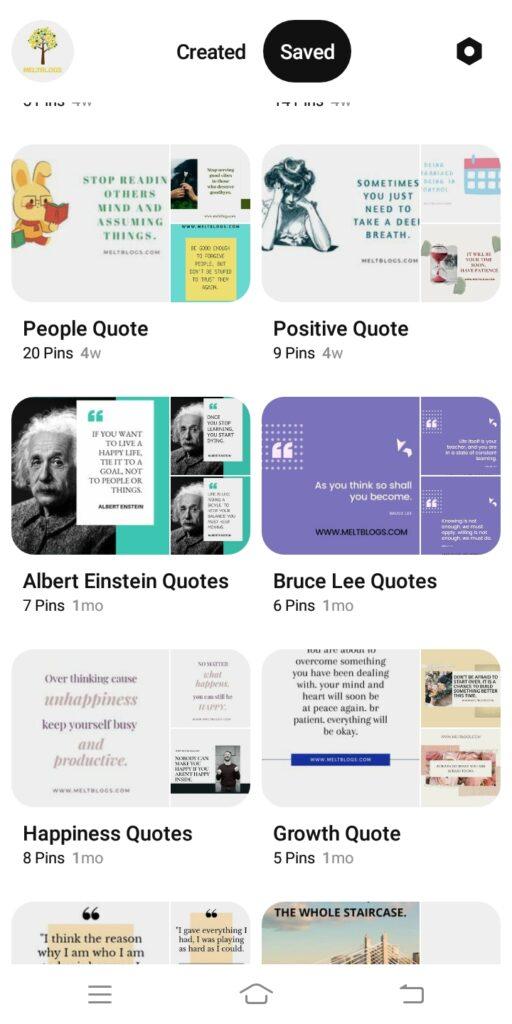 In the same way, note down all the categories you want to post about and make a different category for all the topics.
Concentrate on timings of the post
As per the research, you should post around 7-10 times a day. Moreover, you should learn what is the best suitable time for you to post. For this, you can analyze your traffic stats for your own to see when you get the consistent traffic most and then plan to post your pins according to that because this is when your audience is most active and your post is more likely to spread.
REMEMBER: Every category is different. The time that works best for me may not work for your post. So, DO NOT even think of following what timings others say is the best and analyze it for yourself.
Tip
I have seen a few videos saying to follow people on Pinterest to get more visitors and followers. My suggestion is DO NOT FOLLOW this strategy to increase your audience. Pinterest find this type of behavior unusual. So, instead of playing games just follow the people you genuinely like.
Follow these Pinterest marketing tips to grow your blog.
On your blog, put attractive images with your blog posts, add easy engagement technicians like the Pinterest Pin It and Follow Me buttons.
On Pinterest, stay in contact with compatible pinners, and make sure you add action descriptions on the blog posts you pin on Pinterest. These tips are an excellent start for developing your website traffic and make it more visible.
So these were my suggestion on how a blogger can grow on Pinterest? What do you think? Have you ever used any of these mentioned tips? What results did you see? Share your thoughts in the comments below.
Liked my article on how a blogger can grow on Pinterest?
Subscribe to our newsletter for free to stay updated for a similar post.
Have something to ask?
Contact me on LinkedIn for an immediate response.
Thank you.
 Also Read: How to start a blog in 2021?
Other Articles