How to choose A Niche For blogging?: When I started blogging I heard from many people that they also want to start blogging but they are not sure about the niche. So, today's topic is for the people who want to start their blogging site but are not sure what they should write about. 
First, we will understand what is a niche?
A niche is a job or position that suits someone, the one that they like the most. For example, Everyone in life has something in their field, that attracts their interest the most. Like, I love to write about motivational quotes, articles, and things that are related to emotions. So, here the niche is motivational or emotional articles.
let us now discuss
how to choose a niche for blogging?
I have seen a few videos where people say, select a niche that has a high demand but blogging is not just about writing something that is in demand. It is more than that. So, what it is?
It is,
select a few niches that you would like to write about the most
+
Do proper research about the niches (their market demand, chances of getting higher traffic, methods of monetizing)
As I mentioned above, you are supposed to select a few niches that attract your interest. Now, why am I asking for a few and not a single?
Because on a blogging site, you should have different topics that are inter-related. It is next to impossible to write around 50 topics on a single topic. So, you should find a few niches in which you write an unlimited number of articles.
What are the advantages of choosing a niche that you are interested in?
You would not have to do a lot of market research on the topic before writing anything.
It will be time-saving.
When you do something out of interest, you will never get bored of it. (It is the most crucial point because after a certain point of time, people get bored of writing and they leave blogging by saying it is not their cup of tea)
now the most important part of choosing a blogging niche is doing market research of the niche.
So, the steps of analyzing the market value of a niche are
Analyze the market value
>
scope and sources of getting traffic
>
How can you monetize your niche?
How to analyze the market value of a niche?
There are different ways of analyzing the market value of your niche.
Let me take an example:
Blogging niche itself, since a few years, blogging is in trend, every second person I have met want to start blogging as a part-time earning source but not all of them are aware of how to start. So, starting a topic of "blogging" will be helpful for the newbie bloggers and if you do proper SEO of your blogging website, chances of getting traffic on site will be higher. People will keep on looking for new ideas about blogging and it will never go out of fashion.
Another way of analyzing your niche is,
searching about a keyword related to your niche.
For example, the keyword for a blogging niche is how to start blogging. 
Now go to Google keyword planner and search about your keyword.
As you can see in the image, the average monthly search of the keyword "how to start blogging" is, 100k-1M, which is too high.
In the Google keyword planner, you can customize your search as per location as well.
Now when you know the number of searches of your keyword, how can you analyze the competition of your keyword.
(It is important to analyze the competition of your keyword, as it will help you to understand the competition you will face while starting a blogging site)
How to analyze the competition of your niche?
There are two ways to analyze the competition of your keyword.
Ubersuggest
Mozbar
Go to Ubersuggest
Write down your keyword in the search bar, select your language/country and click on the search.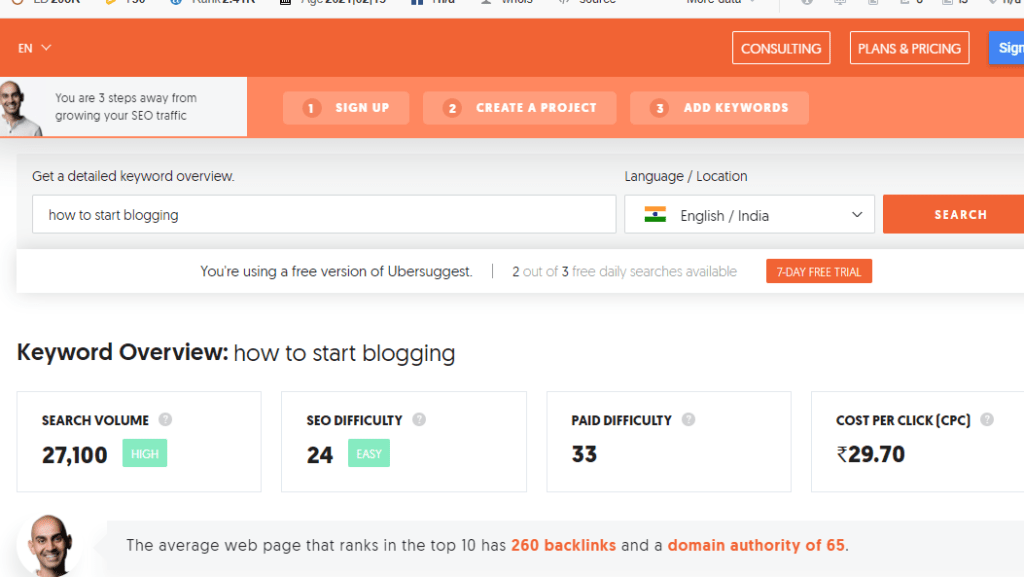 In the image, you can see,
the search volume of the keyword in India is,
27,100 which is considered a high, SEO difficult is 24, which is easy and the average webpage that ranks in the top 10 has 260 backlinks and domain authority of 65.
So, it is a good sign to start with.
Now, come on to the second method,
i.e., by using Mozbar.
You need to go on the Mozbar site, add the Moz into your extension bar.
Now, whenever you will search anything on google, Mozbar will show you the results of each site.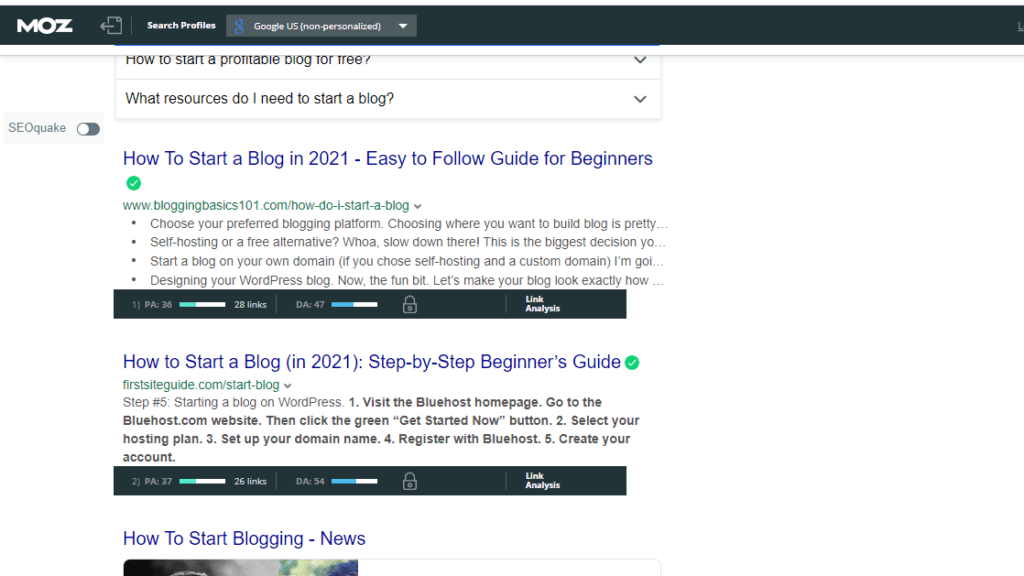 As you can see in the image, the Page Authority of 1st website is 28, and the Domain authority is 47.
Lower the Domain authority, the higher the chances of rank.
For example, If a keyword has a result lower than 10 Domain authority, that means competition of that keyword is very low and the chances of your site to rank on Google is high.
Now the next step is,
Sources of getting traffic
SEO is the best source of getting organic traffic, but it takes a lot of time, effort, and patience to get organic traffic. In the initial stage, there are other options for getting traffic on your blogging website.
i.e. Social media, like Facebook, Instagram, Quora, LinkedIn, Twitter and the most important Pinterest.
You don't need to worry about getting traffic from Pinterest as I have already posted an article on How a blogger can grow on Pinterest?
How can you monetize your niche?
There are so many ways available to monetize your niche, the most common is GoogleAdsense.
Other than GoogleAdsense, the other ways to monetize your niche are, applying for affiliate programs, selling E-books on your website.
Depending on your niche, you can find different products on Amazon as well.
For example, if your niche is on gaming, you can promote game links with the help of which you will be able to earn a commission.
You can also make a review website of different products, and it will help you to earn by putting the link with each article you post.
So, this was today's topic about How to choose A Niche For blogging? There is no rocket science in choosing a niche for your blog, but it is all about dedication and hard work.
I hope this article on How to choose A Niche For blogging was helpful to you and if you have any questions do not hesitate to ask in the comment section. I will try my best to answer as soon as possible.
Good luck with your blogging.
Thank you.
Other Articles