Why am I so emotionally sensitive: Being emotionally sensitive means that a person is highly attuned to their own emotions and the emotions of others. They may experience feelings more extremely than others and often have a elevated level of empathy. While emotional sensitivity can be a useful trait, as it allows people to connect with others on a deeper level and understand their own feelings more profoundly, it can also make them more vulnerable to emotional ups and downs.
Also Read:
People who are emotionally sensitive may find that they are extremely concerned by the emotions of those around them, and they may experience mood swings or extreme reactions to circumstances that others might not find as impactful. It's important for emotionally keen people to learn how to handle and cope with their emotions effectively to support their mental and emotional well-being. This may involve strategies like self-care, mindfulness, seeking support from friends or professionals, and setting healthy limitations in relationships.
Why am I so emotionally sensitive
Emotional sensitivity can be influenced by a combination of genetic, environmental, and personality factors. Here are some common causes why someone might be emotionally sensitive:
Genetics
Genetic elements play a role in emotional sensitivity. Some people may inherit genes that predispose them to be more emotionally sensitive. These genes can affect how the brain processes emotions, leading to heightened emotional responses. It's essential to note that genetics is just one part of the equation, and environmental elements also play a critical role in emotional sensitivity.
Early Life Experiences
Childhood experiences can greatly shape emotional sensitivity. Children who grew up in environments marked by emotional fluctuation, trauma, or irregular caregiving may create heightened emotional sensitivity as a way to adjust to their surroundings. Coping tools developed in childhood can carry over into adultness, making people more reactive to emotional triggers.
Personality
Specific personality types tend to be more emotionally sensitive. Introverts, for example, often have a more profound awareness of their own feelings and can be highly attuned to the emotions of others. Empathetic people, who naturally empathize with the emotions of those around them, are also more likely to be emotionally sensitive.
Hormones
Hormonal changes can affect emotional sensitivity. For instance, many women experience raised emotional sensitivity during their menstrual cycle due to changing hormone levels. Pregnancy and menopause are other life stages where hormonal changes can direct to heightened emotional reactivity.
Stress and Anxiety
Chronic stress and anxiety can make people more emotionally sensitive. High stress levels can overfill the emotional system, directing to stronger reactions to stressors. This heightened emotional state can be difficult to handle and may aggravate emotional sensitivity.
Sensory Processing Sensitivity (SPS)
Sensory Processing Sensitivity is a personality trait characterized by a deeper processing of sensory and emotional triggers. Those with high SPS often notice subtleties that others might miss and may have stronger emotional reactions to different experiences.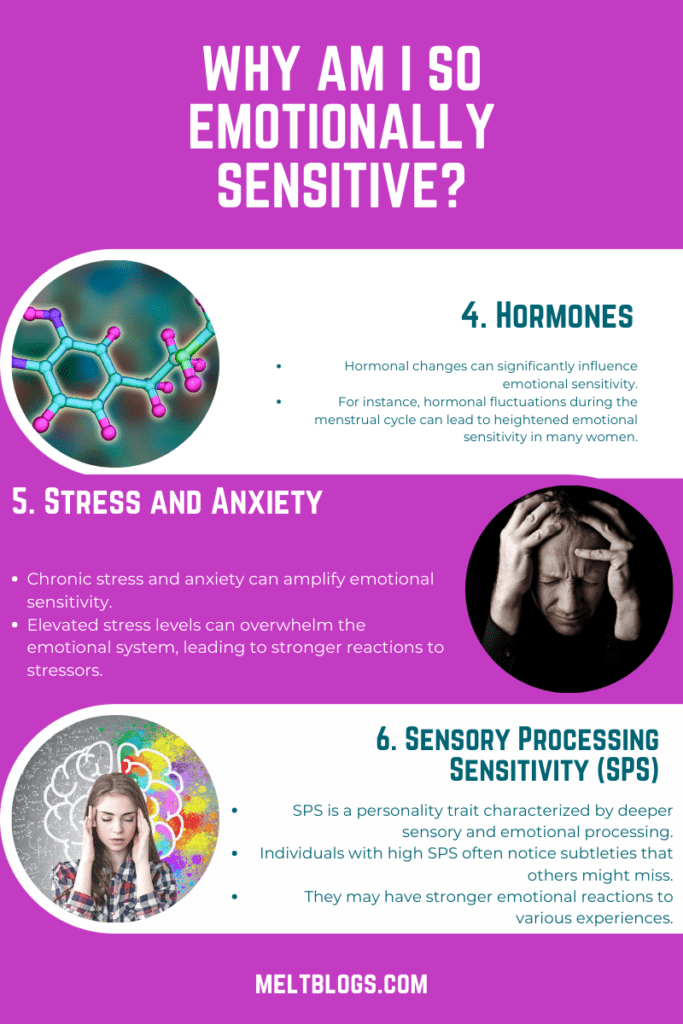 Trauma and PTSD
Traumatic experiences, especially those leading to post-traumatic stress disorder (PTSD), can result in heightened emotional sensitivity. Trauma can rewire the brain, inducing intense emotional reactions, hypervigilance, and emotional triggers related to the traumatic event.
Social and Cultural Factors
Social and cultural standards can affect emotional sensitivity. In some cultures, emotional sensitivity may be enabled and seen as a sign of emotional intelligence. In other cultures, there might be societal pressure to suppress emotions or maintain emotional restraint. These cultural standards can affect how people express and sense their emotions.
Mood Disorders
Mood disorders like depression, bipolar disorder, and borderline personality disorder can boost emotional sensitivity. These conditions often lead to mood swings, emotional fluctuation, and heightened responses to emotional triggers.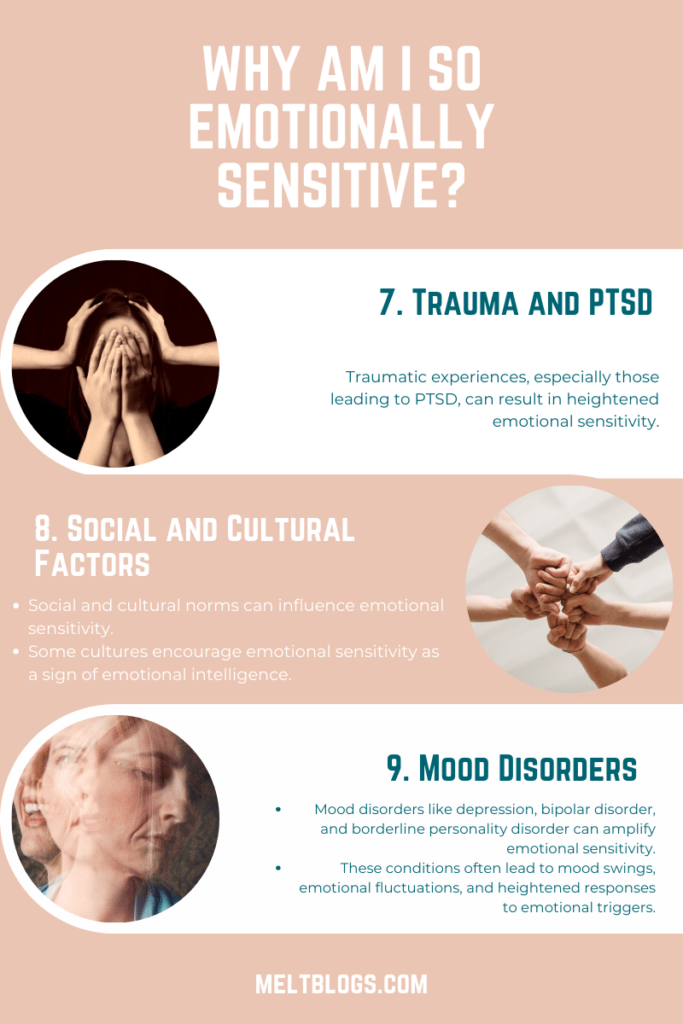 Emotional sensitivity, in and of itself, is not naturally positive or negative. It can be a helpful feature that improves emotional intelligence, empathy, and the ability to connect with others on a deeper level.
Other Articles